If you have ever worked with the tedious process of writing, editing and compiling research articles, you know the importance of being able to take good notes. If you're purposeful with how you organize and write your notes, that usually translates into an easier and smoother writing process overall.
This is precisely what AvidNote is meant to do, to give you, the researcher, a smoother, more fluid note taking experience.
How can AvidNote make note taking easer for you?
Well, for one thing, it enables you to seamlessly write, edit and annotate your notes directly into your browser. You don't need to download anything nor do you need to print out articles to manually highlight text. Instead, with AvidNote, you can both write and edit your notes whilst you simultaneously read your research articles alongside your notes. The process looks a little something like this: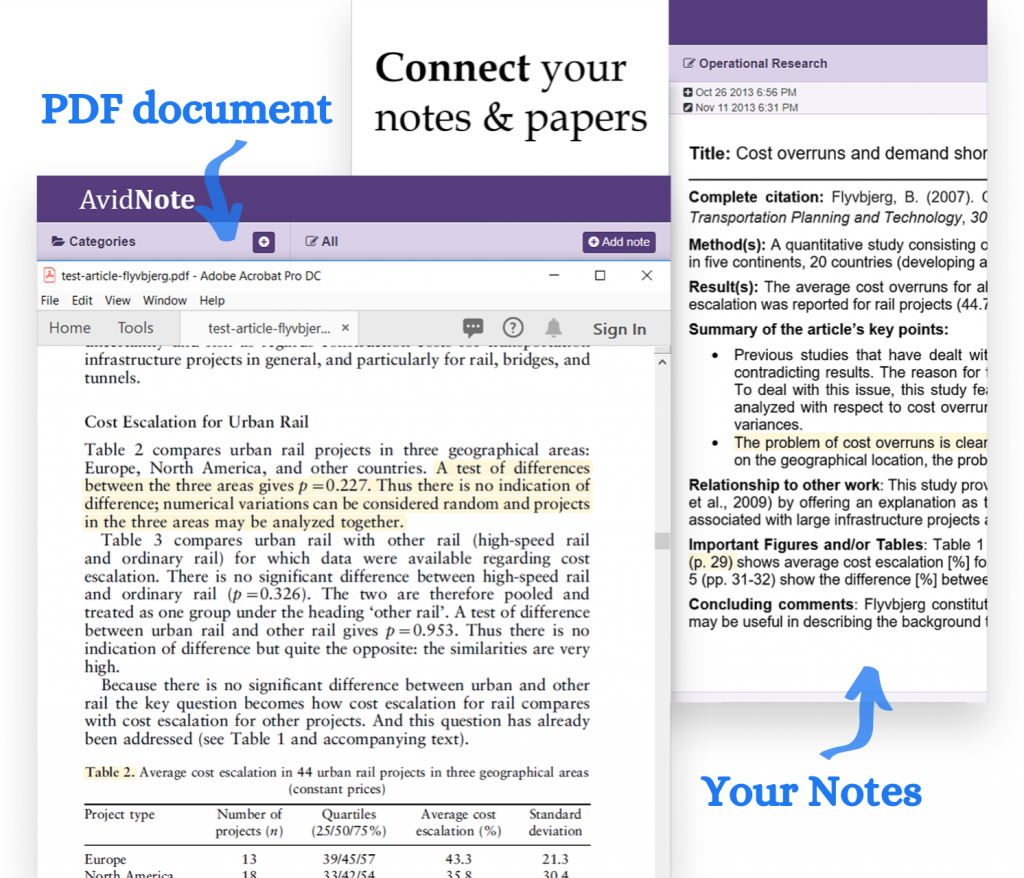 By connecting your notes with the documents that you are reading, you'll be able to take notes quicker, and keep your notes separate from the texts that you are reading. No more scavenging through your desk in search of where you left that one paper that contained all your squiggly notes in the margin.
Easily categorize and search your notes
By having all your notes stored centrally (and securely) in one place, not only do you not risk misplacing a document containing your notes, you'll also be able to easily categorize and search through your notes for keywords that you select. By instantly being able to retrieve the information that you are looking for, that leaves you with more time to focus on what really matters, developing your research ideas and papers.
Use our ready-made templates to take quicker notes
When you create a new note, you can choose to create a new blank note, or you can choose to create a note using one of our templates. At the present moment, the following templates are available:
Research article note
Interview note
Field note
Lab note
By choosing one of the pre-set templates, the note will be formatted in accordance with the template that you chose. This will enable you to have consistency in how you write and structure your notes, making it easier for you to find the information that you're looking for.
All notes are stored securely & encrypted
We take data security seriously at AvidNote which is why we both encrypt the data that you store on our site, and enable you to download a backup of your notes at any time of your choosing. You always have control of your own notes, and can choose to keep your notes, create a backup or delete sensitive data if you need to.