If you are looking for one of the best alternatives for OneNote, you have come to the the right place. Avidnote is a new note-taking tool that makes it a lot easier to take notes on your documents. Unlike Microsoft OneNote, in Avidnote, the focus of the note-taking experience is entirely centered around your documents.
What is the difference between Avidnote and OneNote?
Avidnote is ideal when you want to research something, or when you simply want to take notes on a documents. On one side of the document, you can read the text that you are studying, and on the other side of the screen, you can take notes. Your notes and documents are always connected, side-by side. This makes the note-taking process much faster than a traditional note-taking tool such as OneNote.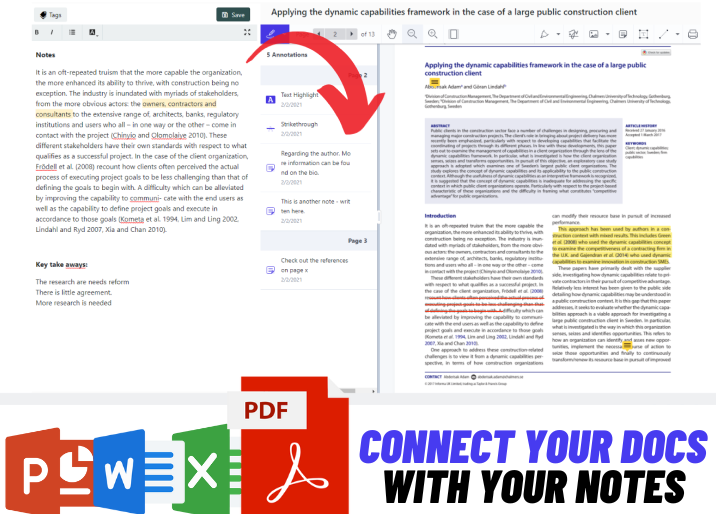 The biggest difference between Avidnote and OneNote is that Avidnote was developed specifically to improve the process of taking notes on your documents. This can be anything from an article to a book, a report or a spreadsheet. If you are reading something and need to jot down your thoughts, Avidnote is a good free alternative to OneNote.
Take notes quickly without needing to switch between your PDF and your notes
In OneNote. If you want to take notes while reading a document, you need to open up the document on a separate page and then open up a note on a different window. This is not ideal if you are reading a document as this forces you to switch between the text that you are reading and the notes that you are writing. In Avidnote, you can effortlessly read and write at the same time, without switching between different windows. The image below illustrates this key feature of the application.
As you can see from the image above, Avidnote allows you to take shorter notes inside the document that you are reading while at the same time allowing you to write longer notes on the other side of the screen. This reduces the time needed to write notes, and this feature is especially useful when reading complicated texts.
Similarly, if you want to take notes or highlight something, you can still do that, directly on the document that you are reading. This flexibility makes Avidnote a better reading and note-taking experience than OneNote.
Collaborate in real time
With both Avidnote and OneNote, you can collaborate with other users. This works by clicking on a sharing button and then inviting the other users to your notes. What makes Avidnote unique is that it allows you to not only collaborate in real time inside the document you are working on, but Avidnote also allows the people you invited to leave their own longer notes on the left side. You can then choose to filter and view all notes or just the collaboration notes as seen in the image below.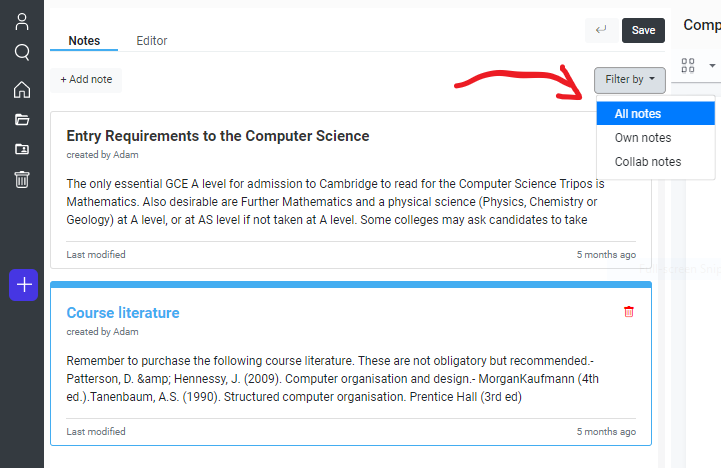 Because your longer form notes are private by default, the invited user cannot delete the notes that you created. However, they will be able to view your notes, copy them if they choose to, and also create their own notes. As for the highlights and annotations that are made inside the PDF, these can be edited or deleted by anyone that you have shared it to, and these changes will show up in real time. So if you are reading a document, paper, article or any other type of office document, you and your invited colleague can read the same document from different devices and leave your own notes and highlights. If you are working in this mode, we recommend using a video call on Zoom or a similar software in order to communicate with a shared screen as you are reading & annotating the document together.
When to use OneNote and when to use Avidnote
OneNote is a good all-around note taking tool, particularly if you already enjoy using other Microsoft Office products like Microsoft Word. The design and interface of OneNote looks very similar to that of Word. However, although OneNote can be used as an all-around note-taking tool, other competing softwares like Notion, do a much better job at that in my opinion.
Avidnote is specifically designed for the research process. If you are reading a lot of document and need to take notes on them, Avidnote is for you. The app is entirely web-based and therefore works on all devices. Having this said, we do recommend using a desktop when using it, as the experience is best optimized for larger screens. With a larger screen, you can easily switch between the text you are reading and the text that you are writing. This unique interface allows you to read and write at the same time, as explained previously. Besides that, Avidnote also works with your reference manager if you need to keep track of citations as other functionalities that are geared for academic use (send us a contact if you would like to know more to schedule a free demo)
The primary difference between Avidnote and OneNote
The biggest difference between OneNote and Avidnote is that OneNote is meant to be a generic note taking too whereas Avidnote is specifically focused on note-taking for when you are reading documents and/or conducting research or a study.