You know that feeling? You've just downloaded 20 papers and haven't begun reading any of them. Each time you find a relevant paper, you get that dopamine kick, and then move on to look for something better. The act of carefully reading papers is of course less exciting than hunting for new papers. If you want to force yourself to start reading & annotating your papers, you'll need a good system for organizing your papers and your reading list.
Although Avidnote is specifically designed for annotating papers in an easy-to-use interface, it can also be used a tool for keeping track of your reading list. Here's a short video explaining how.
Using tags to manage your reading list
The key to organizing your papers with Avidnote lies in using tags to organize your papers. Once you've uploaded a new research paper (or imported one through using the paper search), you can connect it to a specific tag that you have have created. In the example below, I have added the paper to the tags "read today", "literature review" and "journal paper".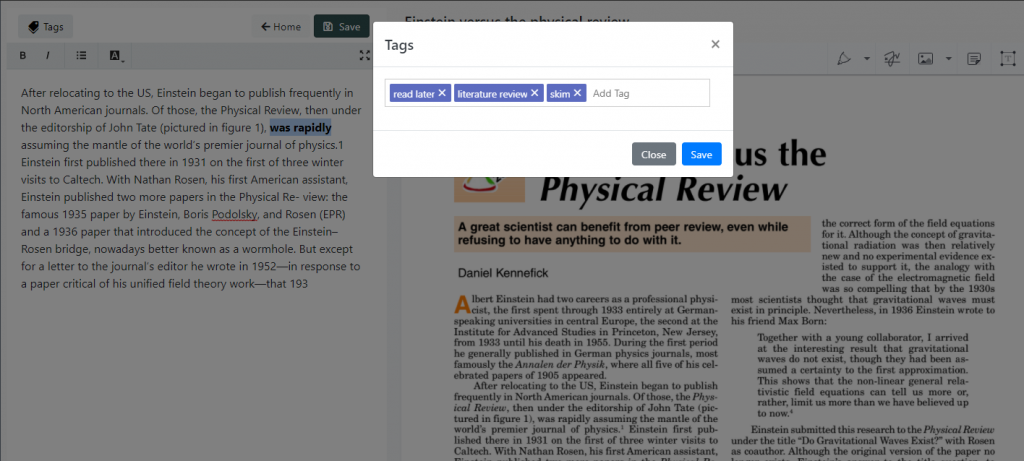 The following table shows you some ideas on tags that you can use to categorize your papers in Avidnote.
| Subject area | Time dimension | Reading intensity | Paper Type | Use it for |
| --- | --- | --- | --- | --- |
| Physics | Read now | Skim | Journal Paper | Literature Review |
| Social studies | Read today | Read for references | Conference paper | Data Analysis |
| Machine Learning | Read this week | Deep read | Thesis | Method |
| Organizational studies | Read later | Delegate | Report | Results |
You can create any tags that you wish, so if you prefer to use a different system, that's fine as well. For example, you may want to add a tag for paper that you have "already read". When you click on that tag, it will display all the papers you've already finished reading. This is a great way to see the progress that you've made.
In the next version of Avidnote, we're making it easier to group papers together into different projects. Stay tuned for more!